Preview

See the rest HERE

comments are welcomme :]
[09-10] Heroes Cast
[11-20] Jennifer Garner
[21-30] Kristen Bell
[31-43] Hilary Duff (old ones)
[44-57] Nelly Furtado (+animated)
[58-65] Stock : London
Teaser :
more here
at
miticuloustyle
[01-08] Hayden Panettiere
nelly_lims
nelly_lims
nelly_lims
nelly_lims
nelly_lims
Click on the banner to JOIN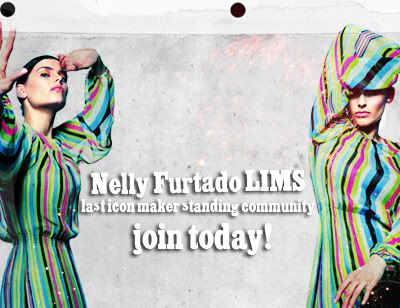 Join my brand new LIMS community
Will and Harry managed a beautiful concert to honor Lady Di.

This batch will be with:

- Princes William and Harry (5 icons & 3 headers/banners)
- Joss Stone (11 icons & 3 banners/headers)
- Nelly Furtado (8 icons)

Rules:
- Credit
- Comment
- DON´T HOTLINK!
- DON´T ALTER THEM
- Don´t claim them as yours.
- RESOURCES | TUTORIALS | AWARDS
- Feel free to friend me! I don´t bite!! :D

Teaser:




I got a jet lag...

I can't find the album version anywhere.
Does anyone have the song Maneater they could send me?
1-4 Jude Law
5-9 Diane Kruger
10 - Anne Hathaway
11 - Brad Pitt
12-16 Craig David
17 -23 Shakira
24-29 Nelly Furtado
30-34 Beyoncè